Catastrophic injuries are widespread in the USA. Every year, a lot of people face such injuries that hamper their ability to work for a long time. From the findings of a study, it is said that around 48.3 million people faced such injuries in 2019.
The number is almost similar every year. Other people cause a huge percentage of these accidents. It might be a mistake or unconsciousness that causes such injury, but the effect is enormous. The affected person might lose the ability to work for a long time.
Even if the physical damage is fixed somehow, the trauma doesn't leave the affected person soon.
The catastrophic injury affects the person seriously. So, you can file a lawsuit against the person or people who caused the accident. A catastrophic injury attorney can help you by ensuring the punishment of the responsible person and proper compensation for the damage that happened. 
What is Considered a Catastrophic Injury?
The exact definition of catastrophic injury is still confusing. Several institutions have described it in several ways. According to Wikipedia, a catastrophic injury is an extreme injury in the brain, skull, spine, or spinal cord that results in severe damage to the affected part.
Many institutions have included severe injury in other parts of the body while talking about this type of injury.
So, we can say that any injury that leaves long-term damage to the body and mind of the affected people, hampers their ability to perform their daily activities for a long time, and leaves them in a prolonged trauma is called a catastrophic injury.
Types of Catastrophic Injury
Catastrophic injuries can be classified into several types. You can divide those into three categories.
Physical Injuries- Injuries like fractures, burns, and damages to tissues or orthopedic functions can be kept in this category.
Spinal Cord Injuries- Spinal cord injuries are damages to the spinal cord that cause long-term or permanent issues with the affected person's mobility.
Cognitive Injuries- An injury that damages the brain and makes someone unable to work, think, speak, or create new memory is called cognitive injury. This is the most dangerous type of catastrophic injury.
Who is Responsible for a Catastrophic Injury?
Catastrophic injuries may happen in many ways. It can even be the fault of the affected person. In that case, you can't sue anyone for compensation.
So, charging one for the responsibility in the article is tough. If the injury happens because of a vehicle or boat accident, the person responsible for the accident is also counted as at fault for the injury. If it is a workplace injury, maybe the co-worker is responsible for that. 
In the case of a catastrophic injury caused by a medical mistake, the nurse or doctor attending the person is responsible. If it happens because of a problem with a product, you can sue the manufacturer.
To mark the exact person responsible for the accident, you need to analyze the situation carefully. If there are security cameras, collect the footage. Talk to everyone involved or present for deeper analysis. Collect as much information as possible to find the exact person responsible for the accident.
Instead of a person, the responsible party can be a company, for example, a product manufacturer. Also, a group of people can be accountable for such injury, depending on the context. 
You May Also Like: Is It Worth It To Hire a Personal Injury Lawyer
When You Need a Catastrophic Injury Lawyer?
A lawyer can't do anything if the affected person is the only person responsible for the accident. Here nobody is to be sued for compensation.
In case the affected person is partially accountable for the accident, a catastrophic injury lawyer doesn't have many ways to win compensation. The reason is- the person was also involved in the fault. Talking to an attorney might show some way.
However, if the affected person has zero accountability for the accident, going to a lawyer for aid, in this case, can bring a benefit. So, suppose you find yourself affected by an accident but don't hold any responsibility for that. In that case, you need a catastrophic injury lawyer who can help you to claim and get compensation for that.
How can a Catastrophic Injury Lawyer Help?
A lawyer can help you in many ways in this case. Let's take a look at those.
Discussing the problem with a lawyer can help you estimate the amount you can get as compensation.
You can get a deeper insight into the overall situation after a discussion with a lawyer. This will help you to decide your next step.
Talking to a lawyer can help you to analyze the scenario better and find out the exact person behind the accident.
Catastrophic injury cases are complex in most cases. So, a lawyer can help you with step by step process.
A lawyer can help you determine the amount of compensation you should ask for.
Lawyers know about a lot of other similar cases. So, they can help you with the possible scenario so that you can stay prepared.
In the case of out-of-court negotiation, lawyers can assist you and bring you the possible amount as compensation.
Overall, catastrophic accident lawyers can help you to go through the whole situation with their experience and knowledge, no matter how you want to resolve it.
How can a Catastrophic Injury Attorney Help?
If you choose to resolve the case through court, you need to take the help of an attorney. Attorneys have more power compared to lawyers. They can represent you in court and talk for you. Besides, they can do everything a lawyer can do for you.
Attorneys have experience in working with such cases directly in court. So, while representing you in court, they remain more confident about it.
So, choosing an attorney is better if you want the court to handle your case and bring you compensation for your loss.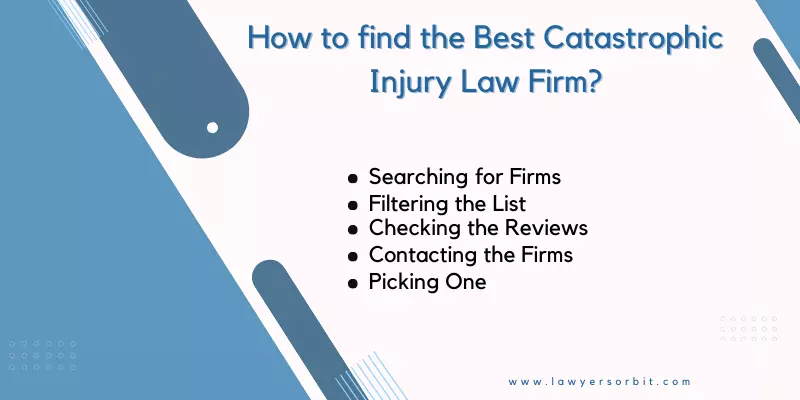 How to find the Best Catastrophic Injury Law Firm?
Finding a catastrophic injury law firm to fight for you for compensation is not challenging. No matter where you live, you'll find several law firms around you. You need to collect some information about those firms and pick the best one for this case.
Here I'm discussing the basic process of choosing the best firm.
Step 1- Searching for Firms
First, you need to search for law firms near you. Searching in Google or asking your friends and family would bring you several names, maybe 10-12 or even more. Make a list of the firms you come to know about.
Step 2- Filtering the List
In the next step, you should filter the list of firms. Pick the firms that offer catastrophic injury support. Not all the firms around you do this. Remove those who don't offer this service because they can't help you.
Step 3- Checking the Reviews
Now you have to evaluate the remaining firms. For this, check the client reviews on their website. Also, if you find any website that evaluates or reviews law firms, check the reviews on those sites. Try to gather reviews from direct clients too.
For this, ask your friends and family if they or someone they know have taken any service from those law firms.
Rank the firms depending on the reviews.
Step 4- Contacting the Firms
Start communicating with the firms to know how they can help you, how much they would take for that, and their past record in such type of case. Besides knowing the information, the aim of the communication is to check if you can make a dependable connection with them.
Step 5- Picking One
After contacting the firms, pick the one you find dependable in terms of communication and experience. Also, keep the cost in mind too.
Following the process, you can evaluate the firms around you and pick the best catastrophic injury law firm to help you to get compensation.
Things You'll Need to Fight a Catastrophic Personal Injury Case
Fighting a catastrophic injury case requires you several types of documents. You need to keep those ready before filing a case.
All the documents related to your medication and medical treatment are necessary. These are used to ensure that your case falls under the catastrophic injury category. If the treatment is running, no problem. Make sure you're not missing anything to submit.
Any document regarding the accident can be used as evidence against the responsible party. So, try to collect as many documents as possible. It can be a police report, an inside report of the organization about the incident, any recorded video, captured image, or anything else. Just make sure that you're collecting as much evidence as possible.
Anything related to the accident and the after-effect of it can be helpful for you while fighting the case. So, don't miss anything. Consult your lawyer and try to gather every document having a connection with the incident.
Types of Compensation Received for Catastrophic Injury
A catastrophic injury can be compensated in three types of compensations. These are-
Monetary Damages
These damages are issues that can be measured with money. The most common monetary damages for which you'll be compensated are-
Cost of treatment
Cost of medication
Expenses of future treatment and medication
Cost of visiting the doctor and hospitals
The amount you spend on therapy
Lost earnings
Lost future earnings
Loss of earning capacity
Non-monetary Compensations
These are damages that can't be in the amount of money. Some common non-monetary compensations are-
Pain and suffering
Trauma
Loss of reputation
Humiliation
Loss of sexual life
Loss of enjoyable activities
Punitive Compensations
The responsible person is charged punitive compensation as a punishment for the event. It is charged to ensure that the person is not going to be engaged in similar events later. Also, if the person willingly causes the damage, a monetary punishment is given by the court in most cases.
How much does a Catastrophic Injury Lawyer Charge?
A lawyer can ask you for fees in several ways. Some lawyers ask for a flat amount to handle the case. Some might ask for an hourly rate where the total payment will be the multiplication of the number of hours and the hourly rate.
You can get legal support for free if your income is less than 125% of the poverty level.
But the most common practice in the industry is the percentage of compensation. Lawyers charge you a portion of the compensation you'll receive from the case. The typical percentage they ask is 33% or one-third of the total amount.
However, you'll find some firms asking for around 40% of the total compensation. You have to spend a bit more for experienced firms.
The positive side of this system is you don't have to pay anything if you don't get compensation. Also, firms that set fees depending on the amount of compensation don't work with you unless they are sure about winning the case.
Besides the fees, there are several costs you need to carry. Those are-
The fee for filing the case
Trial exhibits
Medical records
Police report
Copying and postage cost
Travel cost of the witnesses
Any cost of the lawyer related to the case
You need to handle these costs, counted outside of the lawyers' fee. The lawyer can make a bill for these costs and ask you to pay. Another way is to keep an amount in a trust account so that the lawyer can withdraw as per requirement. Later you can withdraw the rest of the amount.
Frequently Asked Questions (FAQ)
Is there any limitation for catastrophic injury lawyer fees?
It varies on the state you live in. In some states, you'll see a limitation considering several factors. Some states don't have any restrictions on the charge a lawyer can apply. So, to know the answer, you need to check the law of your country.
How can I know my injury falls under the catastrophic category?
As the term 'catastrophic injury' is described differently in different places, determining it is challenging. You should consult a lawyer to know whether they call it a catastrophic injury or not. Consulting a lawyer can help you to shape your case properly before filing a lawsuit. 
Is a strong legal team necessary for a catastrophic injury case?
Yes, you need a strong legal team beside you if you want to win the case of such an incident. The reason is- insurance companies try to show the cost as low as possible for their benefit. If you don't have strong legal support, you can't fight them to prove the actual damage caused by the injury. Having a strong legal team can help you fight the odds around you.
Is it a must to settle the case in court?
It is not a must to settle the case inside the court. Running to court with injury or after-injury trauma is not so easy. But the problem is- not everyone is willing to provide you the compensation if it is settled outside the court. 
Also, insurance companies are not willing to settle things in your favor. They focus on their profitability.
So, the court is the best option for settling this type of case. 
How fast should I file the lawsuit?
It depends on the state you live in. If you're living in Maryland, you have three years to file a lawsuit and ask for compensation. In other states, the time is something within 2 to 5 years.